XB-IMG-24989
Xenbase Image ID: 24989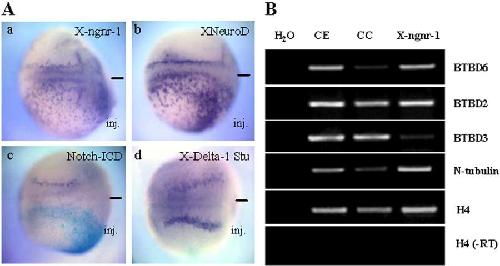 Figure 2. XBTBD6 is regulated by proneural and neurogenic factors. A: In situ analysis of neurula embryos (dorsal views) injected with the indicated mRNA. LacZ mRNA was used as a tracer in c,d. B: Reverse transcriptase-polymerase chain reaction (RT-PCR) analysis of animal cap explants isolated from control embryos (CC) or embryos injected with X-ngnr-1. CE, control embryos.

Copyright © Wiley-Liss , 2008

Image published in: Bury FJ et al. (2008)

Image displayed on Xenbase with permission of the copyright holder.


Gene
Clone
Synonyms
Species
Stage(s)
Tissue
neurog2-a
X-ngnr-1, neurogenin-related-1, Ngnr1, XNgnr1, ngn2, atoh4, Ngnr-1, neurogenin-2, ngn-2, Xngnr-1, xngn2, neurogenin 2
X.laevis
Throughout NF stage 15
neuroectoderm
neural plate
neural crest
pre-chordal neural plate
anterior neural fold

notch1
notch, xotch, xnotch, notch-1, xnotch1
X.laevis
Throughout NF stage 15
pre-chordal neural plate
anterior neural fold
neuroectoderm
neural crest

neurod1-a
XNeuroD, neurod, neuroD
X.laevis
Throughout NF stage 15
anterior neural fold
neuroectoderm
neural crest
neural plate
pre-chordal neural plate

dll1
X-delta-1, delta1, delta-1, Xdelta-1, XDelta1, x-delta, Delta-1, Xdelta1
X.laevis
Throughout NF stage 15
neuroectoderm
neural crest
neural plate
pre-chordal neural plate
anterior neural fold


Image source: Published

Larger Image
Printer Friendly View



Quality:


comment [+]
Return to previous page